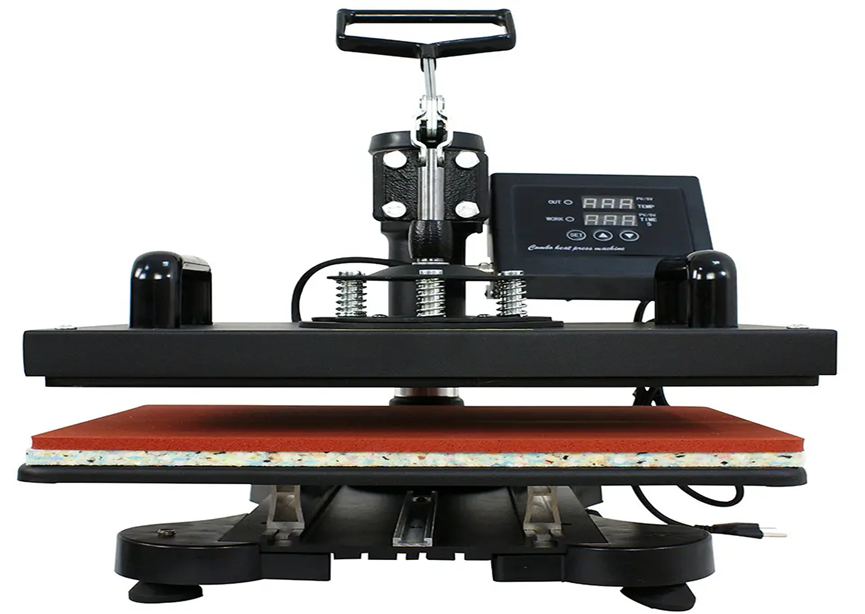 A heat press machine has become an indispensable tool for crafting and personalization projects. Whether you're looking to create custom t-shirts, personalized mugs, or unique home decor items, a heat press machine is the key to achieving professional-quality results in the comfort of your home. But, if you're new to the world of heat presses, you might wonder how and where to buy one that suits your needs.
In this guide, we will look at the different types of heat press machines and offer helpful advice on where to look for and how to get the best heat press for your home DIY projects.
Market size, share, and growth of heat press machine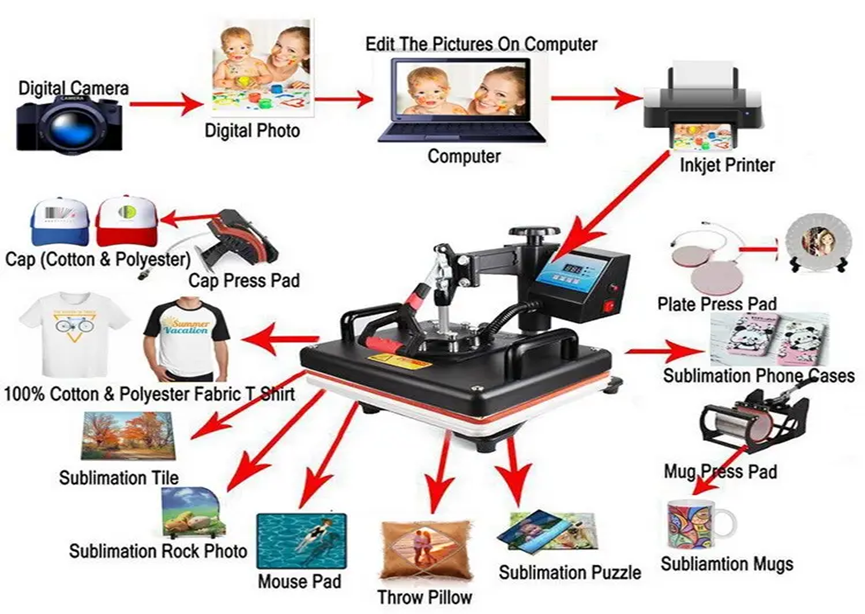 As per the Digital Journal, the press machine market is anticipated to exceed US$ 9,232.2 Million by 2028, significantly rising from its present valuation of US$ 7,850.4 Million in 2022.  During the forecasted period of 2023 and 2028, the press machine is expected to have a CAGR of 2.2%.
The relentless pursuit of enhanced productivity and operational efficiency influences the rising demand for heat press machines, with industries globally inventing ways to streamline manufacturing processes and minimize labor costs.
Automation of design, logo, and graphic application onto garments through heat press machines streamlines textile and fashion manufacturing and cuts labor costs. With manual labor as part of the equation, traditional methods like screen printing involve tedious work that takes up lots of time. Through heat press machines, rapid and exact customization is feasible. With multiple garments loaded on the platen, operators can apply the heat press and produce excellent results quickly. Significant labor cost savings and boosted productivity across the textile and clothing sectors result from this streamlining of operations via machine automation.
In the automotive industry, robots perform tasks such as welding, assembly, and painting, reducing the need for manual labor. According to the IFR, unit sales of robots reached a historical peak in 2020 at 384,000.
The big regional drivers include North America, Europe, Asia-Pacific, and South America.
Types of heat press machines
1. Clamshell heat press machine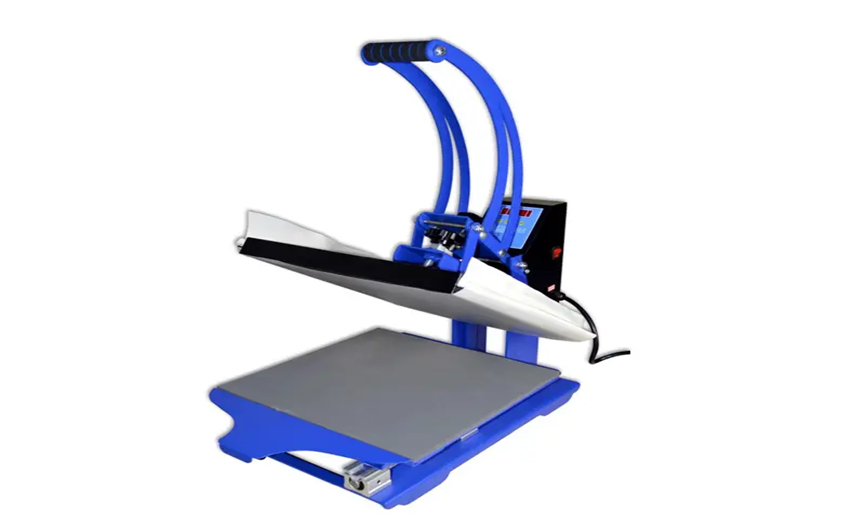 The clamshell heat press is a favored type of heat transfer equipment known for its simplicity. It features two open and closed plates during operation, allowing for easy material placement and design alignment between the heated upper and lower plates. The process involves closing the machine and applying heat and pressure for a specified duration.
Pros
It is effortless to operate
They do not take up much space
Clamshell press machines are affordable compared to other types
Cons
It does not offer enough room for the production of larger items
There is potential heat loss when the clamshell is exposed to outside surroundings, leading to low production of items.
Even though the machine is compact, it still requires sufficient space in front and behind to operate.
2. SwingAway heat press machine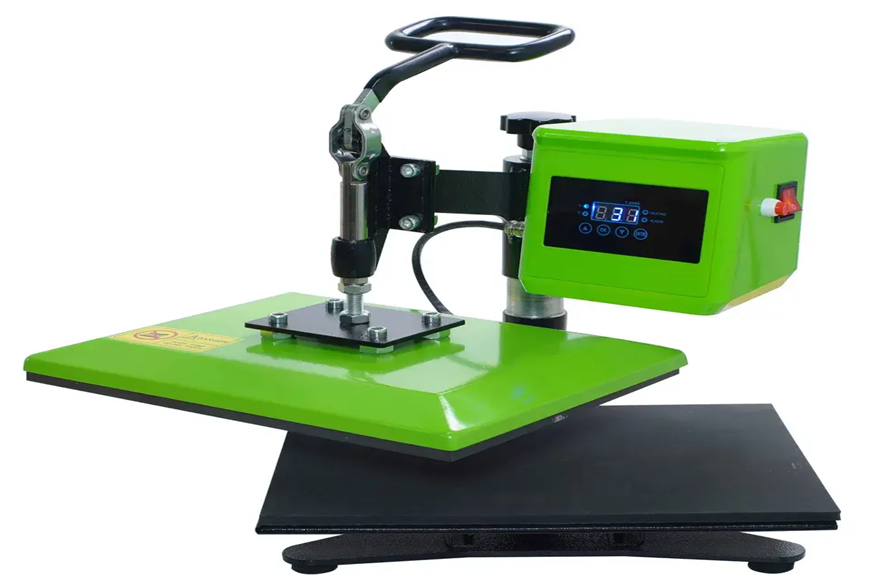 The swing-away heat press machine comprises two distinct parts, with the top side swinging away to grant access to the lower side, streamlining machine operation. This design emphasizes safety, effectively eliminating the risk of burns or injuries during material placement, which appeals to safety-conscious users.
Pros
It offers complete access to the lower heat platen
Best for thick materials
It offers consistent results through even pressure distribution, precise temperature control, and a reliable timing mechanism.
Cons
They are sturdy
It takes a lot of time, especially during swinging action
They are more expensive
3. Draw-style heat press machine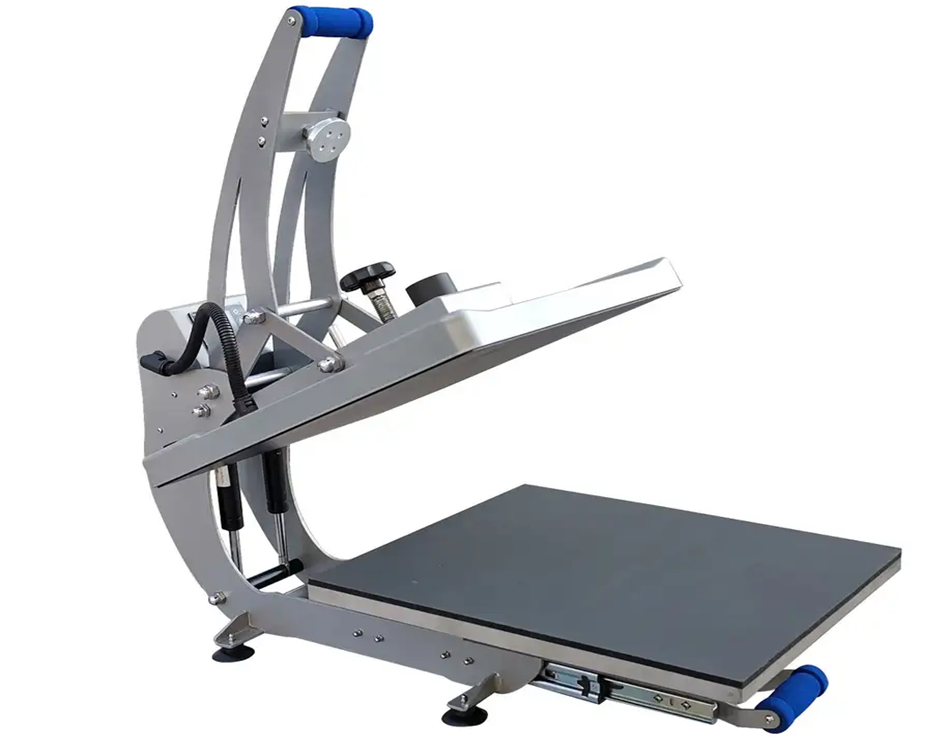 This type of heat press machine is known for its unique design that resembles a drawer. Draw-style press machines are easy to use due to their loading and offloading efficiency. It can be used for massive production of items.
Pros
It is unique, with a drawer-like functioning
It is efficient for high-production
Easy loading and unloading of materials
Cons
It is more expensive than clamshell and swing-away designs
Requires more space to accommodate the drawers
4. Multi-purpose heat press machines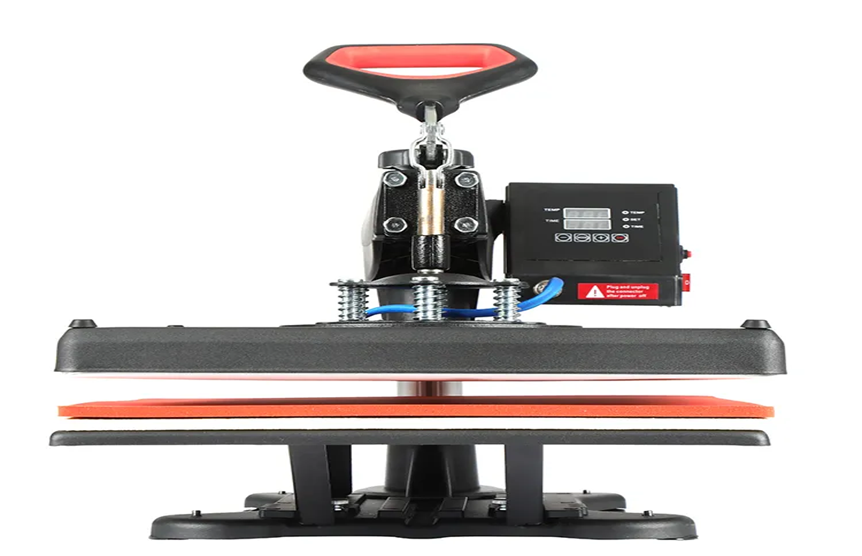 The multi-purpose heat press machine can handle different substrates, from flat items, caps, mugs, and logos to t-shirts. It is suitable for various ranges of customization. The machine is made of interchangeable platens suitable for various applications.
Pros
They can be used for a variety of things since they are adaptable
Cost-effective
Can switch from one method to another quickly
Cons
More expensive than single-functional pressing machines.
Important tips to consider when buying a heat press machines
1. Intended use
Understand your specific application, whether custom apparel, promotional items, or other heat transfer tasks. Different press machines are designed for specific jobs like sublimation or vinyl application, so match the machine to your use for optimal results. Size and capabilities should align with your production needs, as larger models suit high-volume output.
2. Size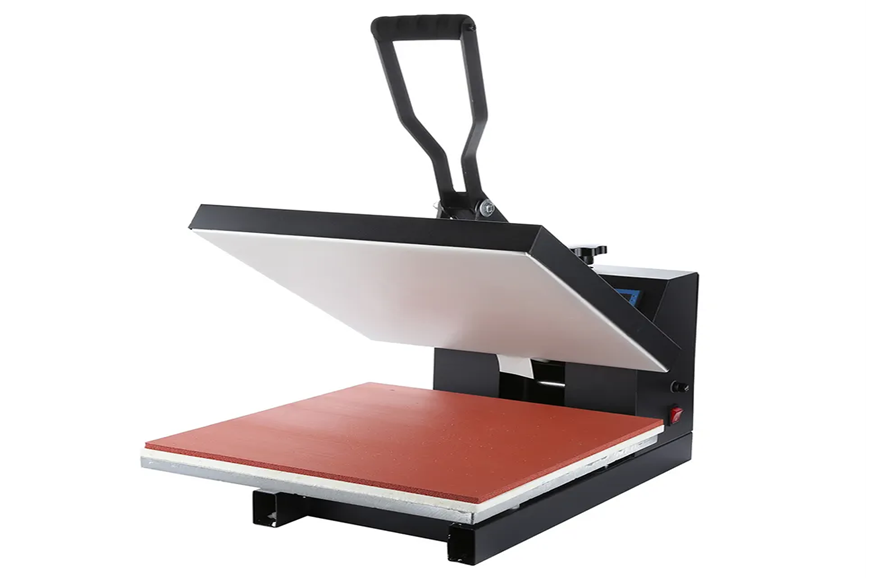 Heat press machines come in different sizes; the size of the platen determines the size of the material to be pressed. On average, heat press machines range in size from small ( 9″ x 12″) to medium (15″ x 15″) to large ( 16″ x 24″). A large machine such as a 16 x 20 inches clamshell is meant for high production and is commonly used in commercial settings.
3. Temperature precision
A good heat press machine can give you control of the temperatures and the pressure accuracy. Different materials require different temperature settings for successful transfers. This allows the production of quality and best results of the materials. For example, in the sublimation transfers, the temperatures range from 380°F to 400°F.
4. Durability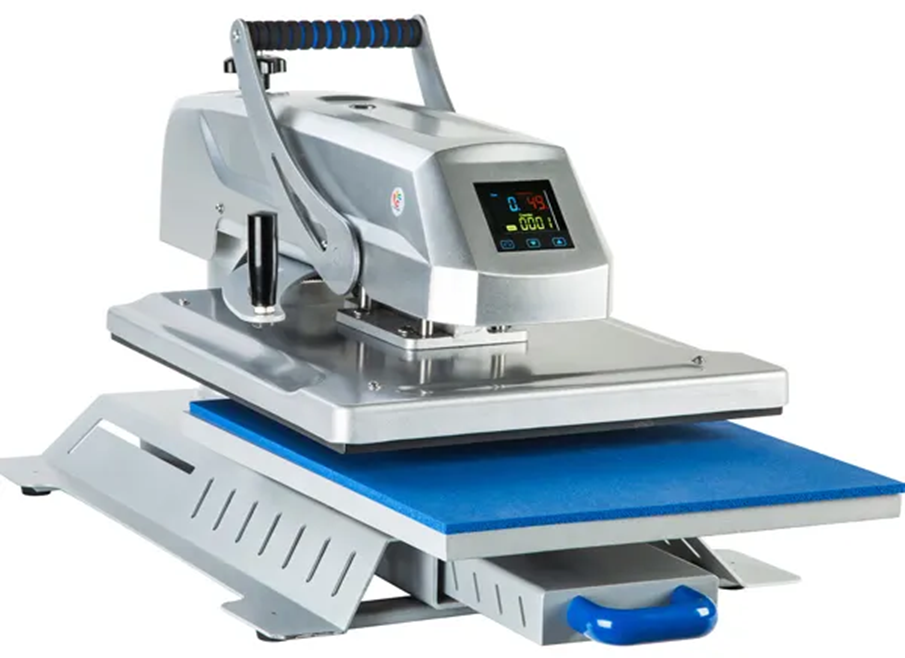 Heat press machines with surfaces made from cast aluminum are particularly durable and tend to last for many years. Press machines that feature Teflon finishes enhance their overall performance and durability. A heat pre­ss machine can provide approximately 15 to 20 years of service.
5. Budget
With proper planning and allocation of funds, establishing a budget allows you to prioritize necessary features while preventing overspending. Ensuring optimal value by finding equilibrium amid budget constraints and superior capabilities is essential when purchasing machinery. Generally, the price of a clamshell heat press machine starts at around US$ 150 to US$ 500, Swing-Away heat press machines range from US$ 200 to US$ 800, Draw-style machines from US$ 300 to US$ 1,000, and multi-purpose machines from US$ 200 to US$ 1500 or more.
6. Heat distribution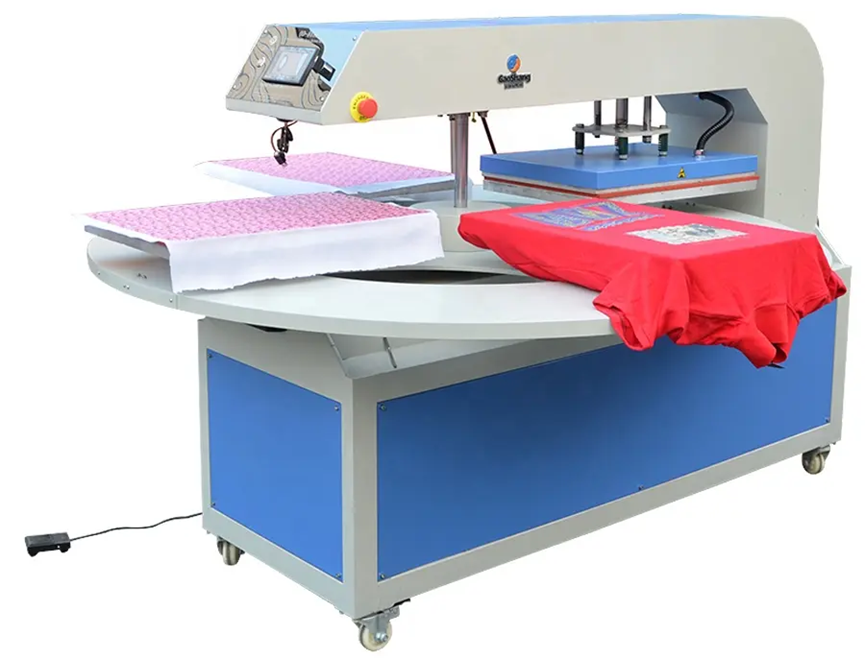 A high and efficient heat press machine should be able to distribute heat evenly across the platen. The consistency of the heat press machine to heat is paramount as it prevents scorching. Whether you are working on different fabrics, ceramics, or various materials, a heat press that evenly distributes heat treats them all the same way. Not only does even heating of materials add versatility, but it also reduces waste.
Conclusion
Many types of heat press machines are on the market, making the likelihood of choosing the incorrect one very high. Finding the right heat press machine will be simple if the considerations mentioned above, such as purpose, budget, temperature precision, size, and durability, are made. Visit Alibaba.com to find durable, high-quality heat press machines perfect for your needs.