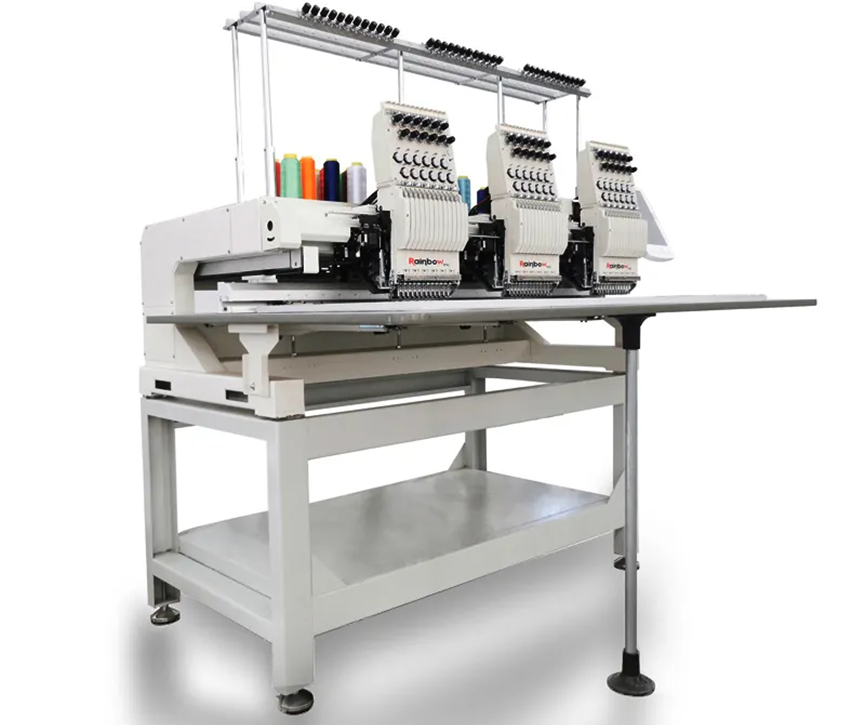 Machine embroidery is an embellishing art that allows embroidery enthusiasts, businesses, or large companies to transform ordinary materials or fabrics into personalized works. Embroidery innovation and creativity use computerized embroidery machines to add patterns, logos, intricate designs, and texts onto the selected fabric.
Nowadays, most embroidery machines are computerized and have improved features that make it easier to create designs. These embroidery machines are primarily meant for home use, though they are popular with commercial embroiderers, too.
This guide will concentrate on the different types of embroidery machines and how you can do machine embroidery at home.
Embroidery machine market share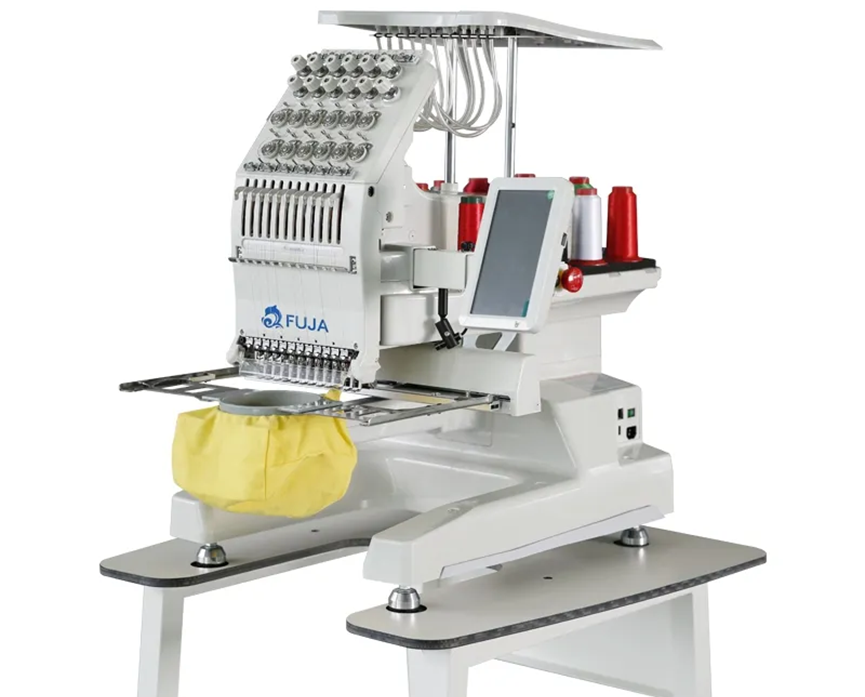 According to Transparency Market Research, in 2022, the global embroidery machine market was valued at US$1.5 billion. The market value is expected to skyrocket with a CAGR of 5.1% between 2023 and 2031 and hit the US$2.3 billion mark by the end of the estimated period.
Embroidery machine sales grow thanks to advances in industry technology (textiles, fashion) and the increased popularity of embroidery. Improvements in technology and higher demand for automated embroidery methods have also fueled market growth.
Asia Pacific is leading in demand for embroidery machines mostly in India, China, Japan, and South Korea. Following closely is North America, Europe, Latin America, the Middle East, and Africa, lagging behind.
Types of embroidery machines
Below are the three embroidery machine categories;
1. Mechanical embroidery machines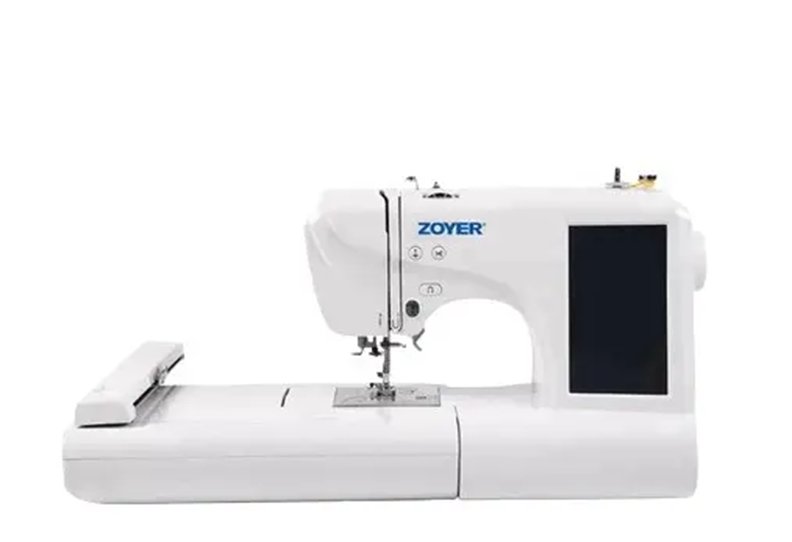 Traditional embroidery methods rely on mechanical machinery to produce complex patterns on fabric. Dependability and longevity are hallmarks of these machinery options for those who prize manual control. A mechanical embroidery machine comes up short compared to digital accuracy and automation of computerized options, though they continue to hold value for creative and niche projects.
Generally, mechanical embroidery machines work at speeds of 300 to 600 stitches per minute. With prices ranging between US$ 200 and US$ 500, entry-level mechanical embroidery machines offer an affordable option for budding sewers or those on a tight budget. Mechanical embroidery machines with abundant attributes will likely cost over US$ 1,000.
2. Computerized embroidery machine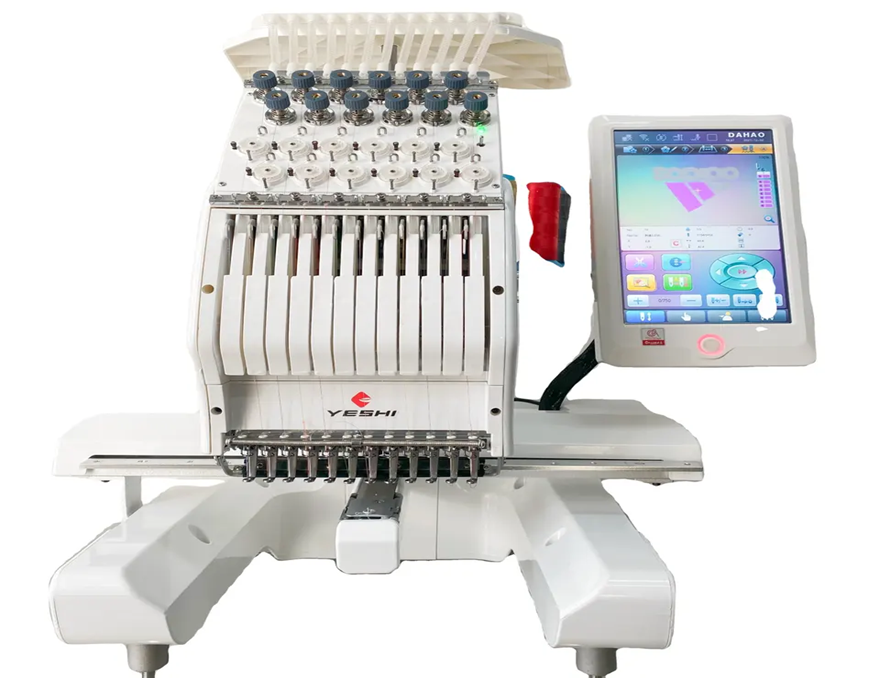 From independent artists to massive corporations, these devices offer an all-purpose tool for designing on multiple fabrics. Productivity can significantly benefit when choosing a faster-automated embroidery machine since speed matters most. A computerized embroidery machine typically sews between 600 and 1,000 stitches per minute, while high-performance models reach top speeds of up to 1,500 stitches per minute.
The cost of a computerized embroidery sewing machine can vary greatly depending on features and capability. Typically priced between US$ 300 and US$ 500, basic home embroidery machines cater well to starters. With limited embroidery area, these machines are ideal for personal projects and small-scale productions. From US$ 1,000 to US$ 10,000, mid-range machine buyers can discover features like larger embroidery fields, multi-needle capacity, and broader stitch selection capabilities.
High-volume production requires expensive industrial-grade embroidery machines, often exceeding $20,000. Constant use? These machines can handle that.
3. Electronic embroidery machine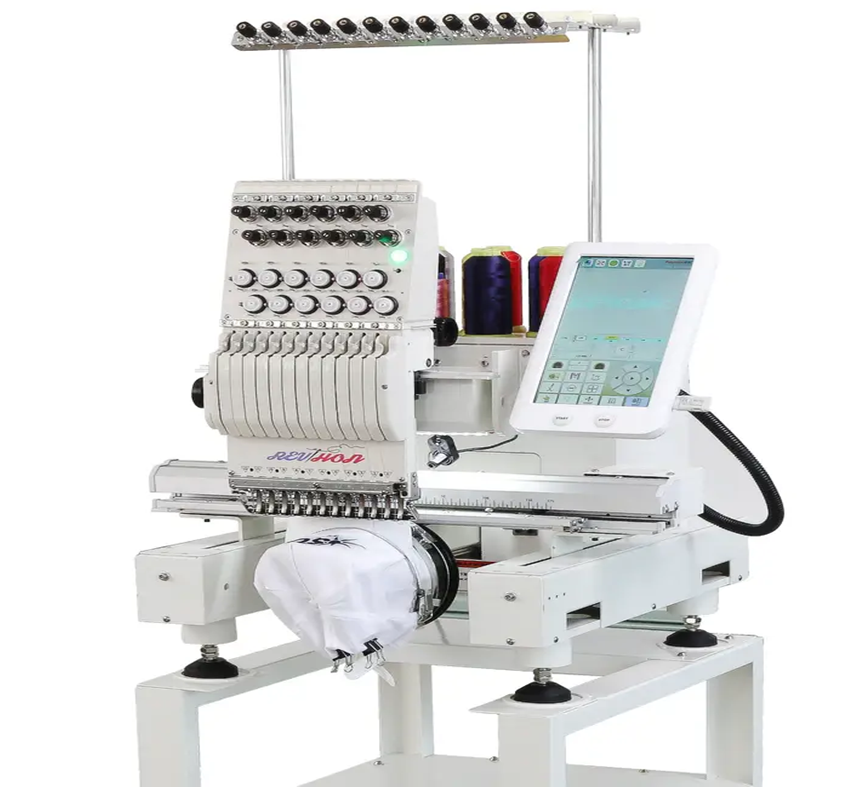 Precision and speed are now paramount, with electronic embroidery machinery at the helm of textiles and apparel manufacturing. High-quality embroidery requires less human input as these machines leverage digital tech. They enable efficient and precise production with speeds between 600 and 1,000 stitches per minute.
Priced between US$ 500 to US$ 1,000, these devices appeal to amateur crafters and small business owners. Specialized embroidery machines range in price from US$ 1,500 to US$ 10,000 or more. They are geared towards big commerce and are characterized by expanded embroidering surfaces, multipurpose needles, and sophisticated stitch functions. Businesses and amateurs value electronic embroidery machines' adaptable and precise qualities, converting inspired visions into expertly crafted embroideries.
How can you do machine embroidery at home?
Required materials
Embroidery thread: With a wide range of hues, high-quality embroidery thread is available in numerous colors.
Stabilizers: By type, there are three: tear-away, cut-away, and wash-away; all help stabilize fabric during embroidery work.
Hoops: Place holds differently sized embroidery hoops securely.
Needles: Appropriate needle choice makes a difference when working with different embroidery machines and fabrics.
Bobbins: With matching thread crucial, you will need a bobbin thread.
Fabric: On which fabric would you like to embroider first? Choices abound when it comes to cotton, linen, and denim.
Process of doing machine embroidery at home
Here is how to use an embroidery machine as a beginner;
Step 1: Design selection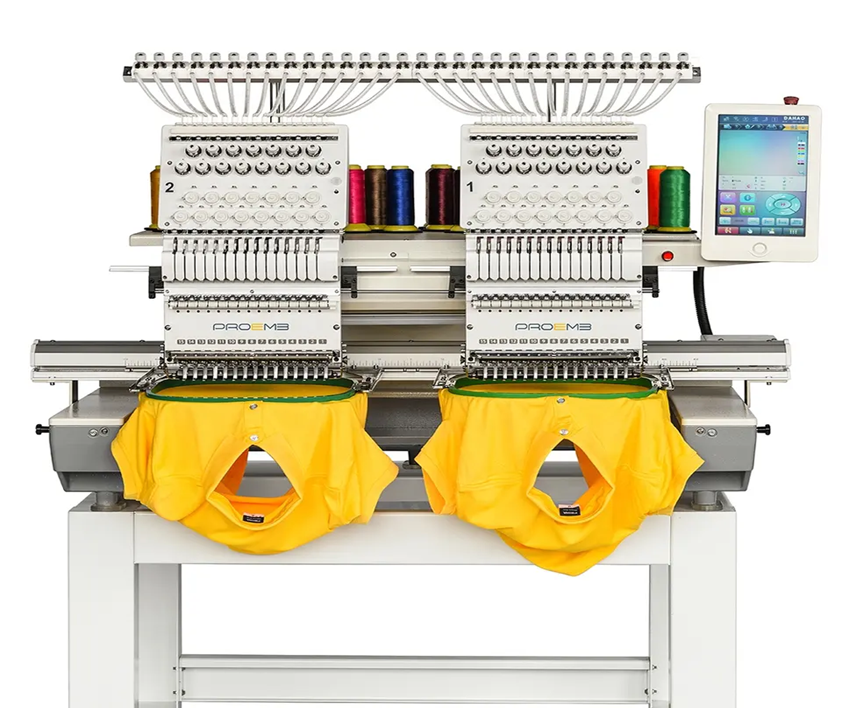 You have two ways to generate embroidery designs: either embroidery software or manually digitizing drawings. Ensure the selected design is compatible with the machine. The designs are typically in formats like .dst, .pes, .exp, or .vp3.
Step 2: Prepare your fabric
Common fabrics to select from include denim, linen, stabilizer-backed fabric, and cotton. To achieve the ideal shape, measure and trim the fabric according to the guidelines provided by your device and the textile.
Step 3: Thread your machine
Threading the chosen hues of the machine should be done per the manufacturer's directions. Follow the machine's manual instructions to ensure the thread passes through all the required parts and needles.
Step 4: Hoop the fabric
Hoop the fabric cautiously ensuring it is evenly spread and snug but not pulled out of shape. Tighten the fabric to ensure it fits snugly inside the embroidery hoop. Place the stabilizer underneath the fabric and attach the hooped fabric to the embroidery machine.
Step 5: Select and load the design
Depending on the model, you can either load through USB or connect your computer to load your machine embroidery designs onto your machine. Some machines come with built-in designs where you can select and load if your preferred design is available.
Step 6: Position and test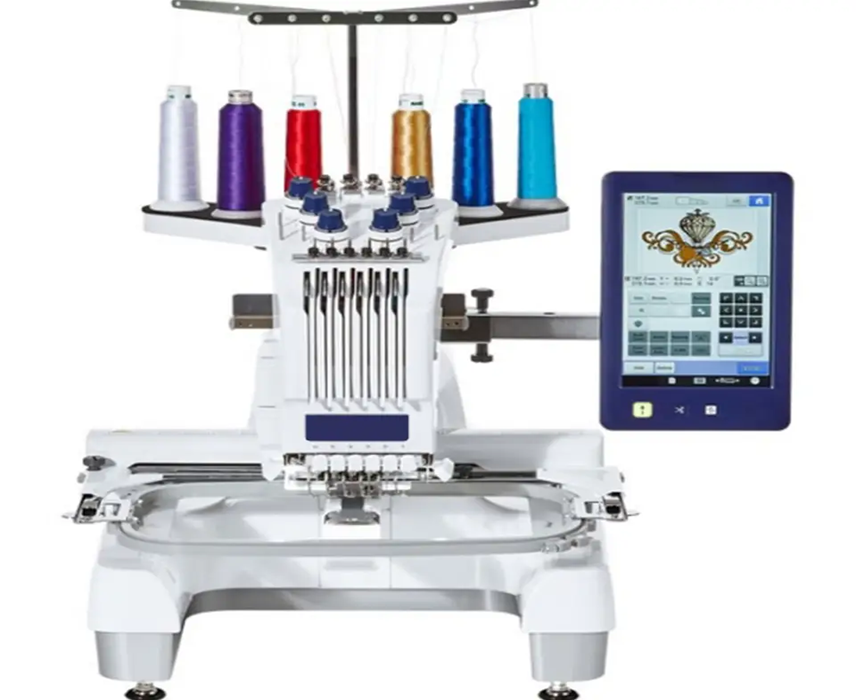 Where you wish the design to appear on the fabric depends on the machine's control placement. A run should be performed on testing alignments before starting the embroidery process on a scrap fabric to get the correct positioning of the hoop in the machine. This avoids the wastage of fabric and threads.
Step 7: Embroider
With the machine on, select a design that will be embroidered automatically onto the fabric. Monitor the embroidery process while changing the threads as required by the design and adjusting tension and speed if necessary.
Step 8: Finish and clean-up
Finished embroidery requires removing the fabric from the hoop and thread trimming before disposing/washing the stabilizer. Trim the excess stabilizer and threads on the material carefully to avoid cutting the stitches on the embroidered fabric. Finally, iron the embroidered area to remove wrinkles.
Step 9: Care for your machine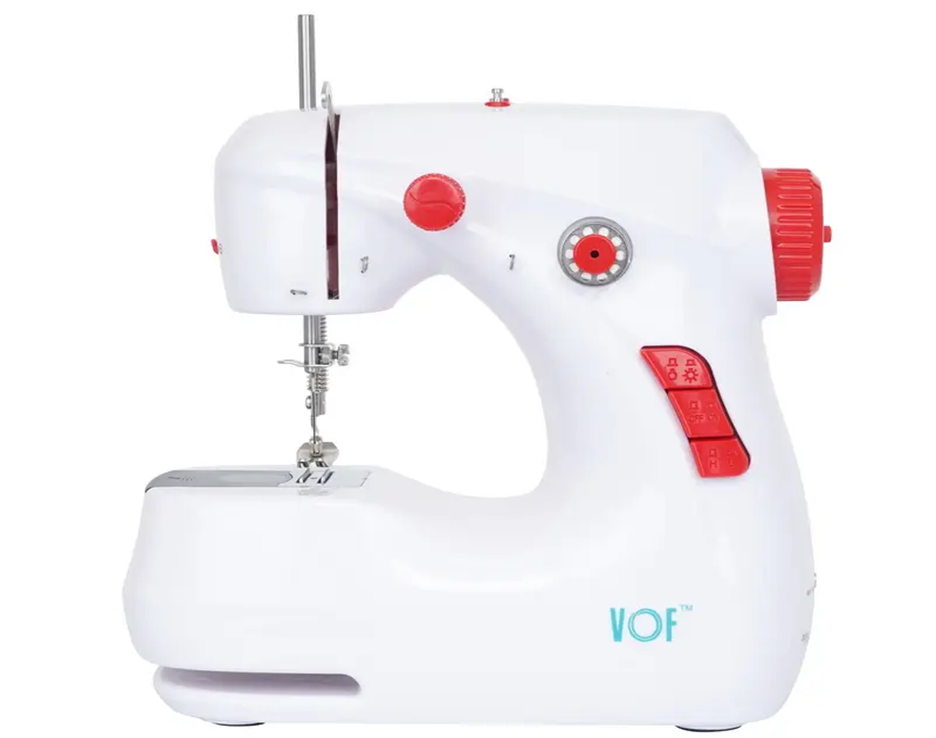 Regularly clean and maintain the hat embroidery machine as the manufacturer instructs to ensure it continues functioning smoothly.
Summary
Machine embroidery at home is a combination of creativity and technology. It is where knowledge of the embroiderer, the suitable embroidery machine, and supplies are vital to creating stunning embroidery designs. The steps mentioned earlier can help if you are not a professional embroiderer. Alibaba.com takes center stage in the market for a vast array of the best embroidery machine options.