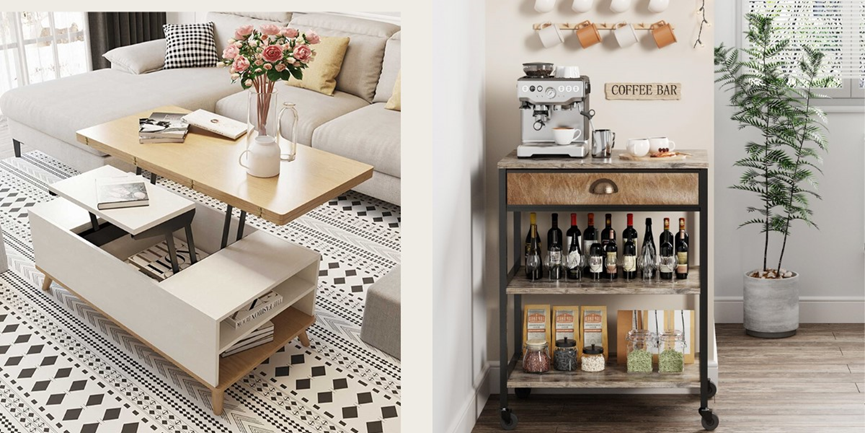 Whether you want to build your first coffee bar table or give an existing one a refreshing makeover, this article is for you. These five simple and exciting coffee bar table ideas will give your home a luxurious appeal and redefine how you enjoy your coffee.
From coffee bars suspended mid-air to vintage-inspired settings that tell a story, you'll improve your morning routine and impress your guests. If these ideas pique your interest, then keep reading.
Idea 1: The gray-tone coffee bar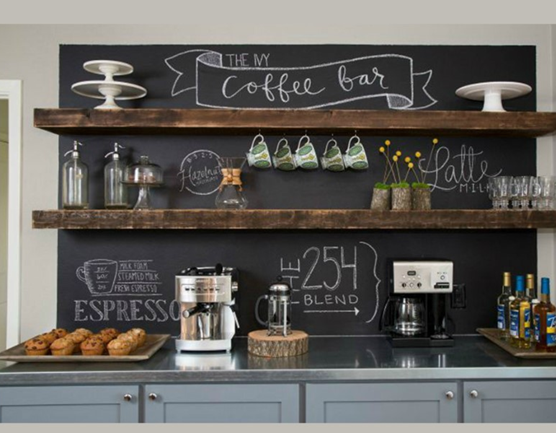 A home coffee bar should provide more than functionality. It should decorate the room and enhance a stylish atmosphere. A gray-toned coffee bar creates a calming ambiance and shows modernity.
You can incorporate sleek silver hardware to give the kitchen a fashionable look. The under-shelves lighting introduces a sense of warmth and illuminates the coffee station table.
The two rustic block shelves complement the backdrop paint board, thus creating a homely coffee station with ample storage. This design combines functionality and aesthetics to create an appealing coffee bar table.
Idea 2: Multi-function convertible coffee bar table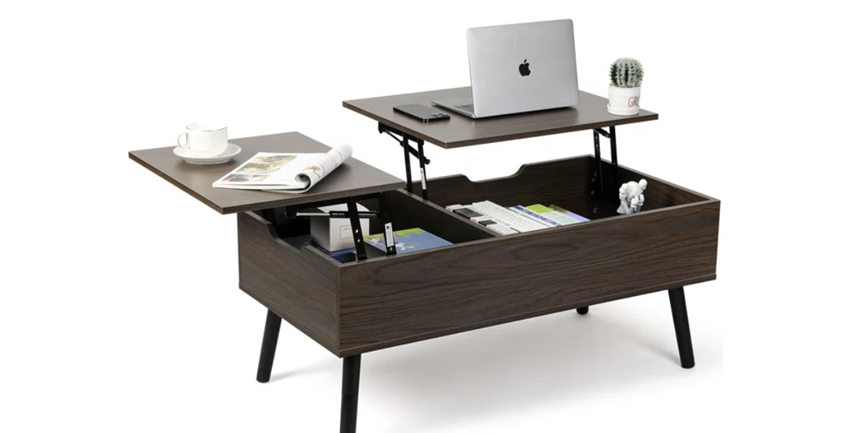 A multi-function convertible bar table provides a lift-top design coffee table that you can use in 4 different ways. For instance, it turns into a rustic coffee bar table with storage when closed, and when half unfolded, you reveal 2 work and study station tables.
If this coffee bar table is fully unfolded, you form a dining table that can host 4-8 people, making it ideal for small spaces. With a gas lift spring system, you can change the convertible bar table from a dining table to a coffee bar without noise, rebound, or sudden fall.
The hidden storage under the countertop offers an excellent solution for coffee pods, mugs, and sachets. Moreover, the large lower open shelves provide space to keep your coffee machine and mixer.
With this setup, you can seamlessly transition from morning coffee to stronger evening drinks. It also allows you to declutter and organize your working area.
Idea 3: Repurposed Coffee bar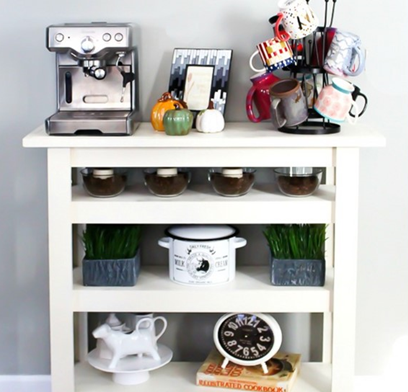 Do you have old furniture like TV stands or school desks that you've kept in storage? It's time you turn them into a coffee bar station. The drawers in the children's desks can hold coffee supplies while you keep the coffee machine and mug holder on the countertop.
You can buy one cheaply from a yard or garage sale if you don't have school desks. This way, you protect the environment through recycling.
You can also repurpose a TV stand. They often have shelves for holding Blu-ray players and cable boxes. Once you've painted and given the stand a new look, use the shelves to store coffee bean jars, sugars, and other essentials.
The countertop is a coffee bar stand where you can keep the coffee machine and a tree mug holder. The colorful mugs on the holder provide the needed aesthetics.
Idea 4: Customized Coffee bar cabinet
If you want to enhance the functionality of your kitchen cabinet, then a customized coffee bar table is the way to go. Designate part of the kitchen cabinet for a coffee station. Remove a few shelves and design its interiors to reveal a hidden coffee bar.
It's similar to those clandestine liquor cabinets. You can add colorful LED lights for decoration. If you want to be more creative, add decorative scents to this mini-coffee bar stand, making the compartment feel like a Java station.
Additional side shelves provide more storage space for cream liquor or whiskey for afternoon drinks.
Idea 5: Tired tray small coffee bar stand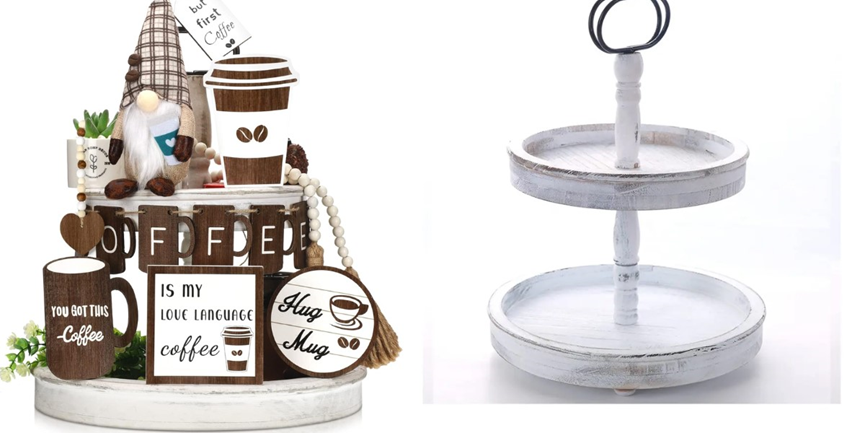 Do you want to build a coffee bar but are worried about space? The tiered tray coffee bar is the perfect space-saving coffee bar table for your kitchen.
Who said old trays should collect dust in the garage? This DIY coffee bar idea enables you to reuse old objects in the garage instead of buying new items. With creativity, you allow the old things to give your coffee nook a fresh look.
You can also use old pastry trays to keep coffee accessories. Bring on cupcake stands and decorative muffins as coffee trays. And if they're not looking the best, spray them with new paint to give them their luster.
Idea 6: Turn bookshelves into a coffee bar
If you have an old bookshelf that looks like it belongs to the 1900s, you can turn it into a coffee bar. This item is what you need in the kitchen to build a coffee nook for your morning routine.
With some creativity, the old bookshelf can improve bare walls in the kitchen and keep all coffee accessories. A bookshelf has several sections that you can use to organize mugs, jars, plates, and other essentials.
You can screw mug hooks underneath the shelves to increase storage space. Alternatively, you can buy a second-hand bookshelf with lots of built-in nooks to keep your kitchen stuff.
Idea 7: Combine wine rack with coffee bar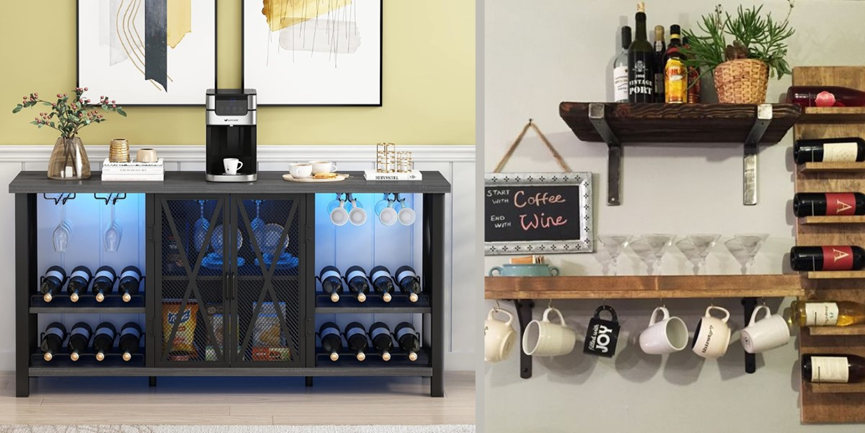 You can also repurpose the vintage wine rack to make a new coffee bar stand. Use the countertop of the wine rack as a small coffee bar table for the coffee maker and other essentials you want to display.
Add floating shelves above the wine rack to provide additional storage. The mug hooks underneath the shelves help keep extra mugs for your visitors. Additionally, you can fix a paint board on the adjacent wall to help you personalize your coffee nook.
This rack still holds your favorite wine and syrup bottle. What a gorgeous combination of coffee and wine bar!
Elevate Your Coffee Experience with Creative Coffee Bar Tables
Coffee bars in a home provide more than a morning drink corner. These innovative coffee bar table ideas suit various spaces and can transform your daily coffee routine into a luxurious experience.
Regardless of your coffee bar table design, these ideas will improve your home's aesthetic and brewing experience. You'll impress your guests with a creative and functional coffee haven, whether the morning drink or evening cocktails.