Most modern homes have functional coffee bars in the kitchen, study room, living room, or at convenient places for an early brew. This dedicated coffee station with an espresso machine, mugs, and essentials can help you carve a productive morning routine.
This article explores 35 coffee bar ideas that can fit different kitchen layouts, from console coffee tables on a blank wall to mobile bar carts for smaller spaces.
Let's dive in.
1. Utilize vertical space
Setting up an elaborate coffee bar stand isn't ideal if you have limited space in your home. However, you can use the free vertical slots and place a small coffee bar console table by the wall.
All you need to do is build open shelves above the coffee table to store your beans, pods, and mugs. The coffee maker machine and any decorations go on the table's countertop.
2. Hide supplies
If clutter prevents you from investing in a coffee station, then a coffee bar table with storage is what you need. This rattan nook has cabinets and open shelves to keep glass jars with coffee essentials.
The hanging shelves above the console table provide additional storage space for mugs and coffee pods. This modern coffee bar eliminates clutter and adds to your home décor.
3. Use a breakfast pantry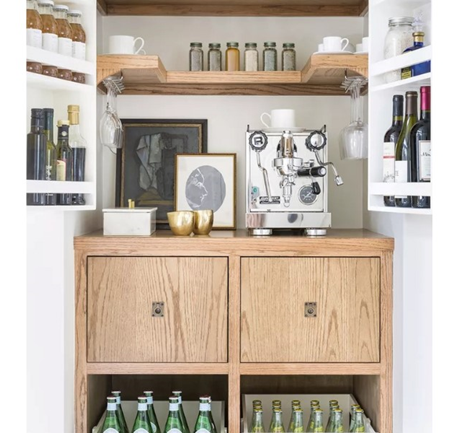 <alt="Coffee bar table on a breakfast pantry">
One way to streamline your morning routine is to have all your coffee essentials in one place. And a breakfast pantry cabinet suits the bill.
This simple coffee station by Emily Henderson Design has a toaster, mugs, coffee maker, and bread. Its cabinet doors have shelves to keep coffee grounds, tea bags, jams, and sundries.
4. Utilize corners
Chances are that corners in your home are underutilized. You can create a mini Java station in one of the living corners where you plan your day.
Build an L-shaped coffee bar table with cabinets that fit well in the corner and provide storage. You can also add L-shaped open shelves to keep coffee essentials. The hooks below the shelves help with hanging mugs.
5. Kitchen trolley and peg board
This Kmart Kitchen hack by Candy is worth stealing! She joined a peg board and a kitchen trolley with a piece of wood to build this clever and movable coffee station.
The kitchen trolley provides storage space and a countertop for placing a coffee marker. Candy also added tiered shelves on the peg board for keeping coffee essentials, decorative faux greenery, and a personalized coffee guide.
6. Farmhouse coffee table stand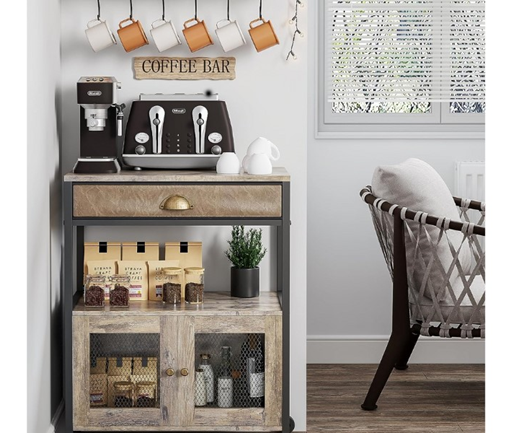 You can add glamour to your coffee bar with an adjustable farmhouse. It has a wooden panel on the right with attached screws to adjust the coffee table depending on the size of the placed goods.
The coffee drawers store K-cups, filters, small grinders, sugar dishes, and hot paper cups. Besides drawers, you can build open shelves with hooks on the wall above the stand for extra storage.
7. 2-tier coffee table bar organizer
The 2-tier coffee bar table organizer has a 2-layer design with the lower and upper storage boards being 15 inches apart. You can use the upper space to keep coffee powder, beans, sugar, a coffee grinder, and a coffee maker. The lower board is ideal for storing coffee mugs.
Moreover, its dual-handle design lets you move your coffee accessories to a preferred place. Since it's portable, you can use it for gatherings, camping, coffee service, or mountain climbing.
You can place it on the pantry, dining table, home office space table, or patio table for outdoor fun. Its ladder-shaped pattern and detachable ball legs ensure stability and aesthetics.
8. Include a chalkboard paint
Imagine walking into your coffee station table in the morning and reading an inspirational quote from chalkboard paint to kick start your day! And that's what this fantastic coffee bar idea gives you.
You can copy your favorite coffee house menu to decorate your chalkboard. It's like waking up to a Java cup to reprogram your brain for the day ahead.
9. Create a pull-out station
Pull-out coffee station designs are excellent ideas for those with limited space. You can utilize the built-in kitchen cabinets to keep the espresso machine and tea kettle. The sliding tray lets you pull out the coffee bar and tuck it away when you're done.
Alternatively, install drawers in the lower cabinets to organize mugs, beans, and essentials. Designate a section on the cabinet's countertop to station your coffee maker and grinder. Once you finish your morning coffee routine, you can hide the drawers behind cabinet doors.
10. Concealed Coffee station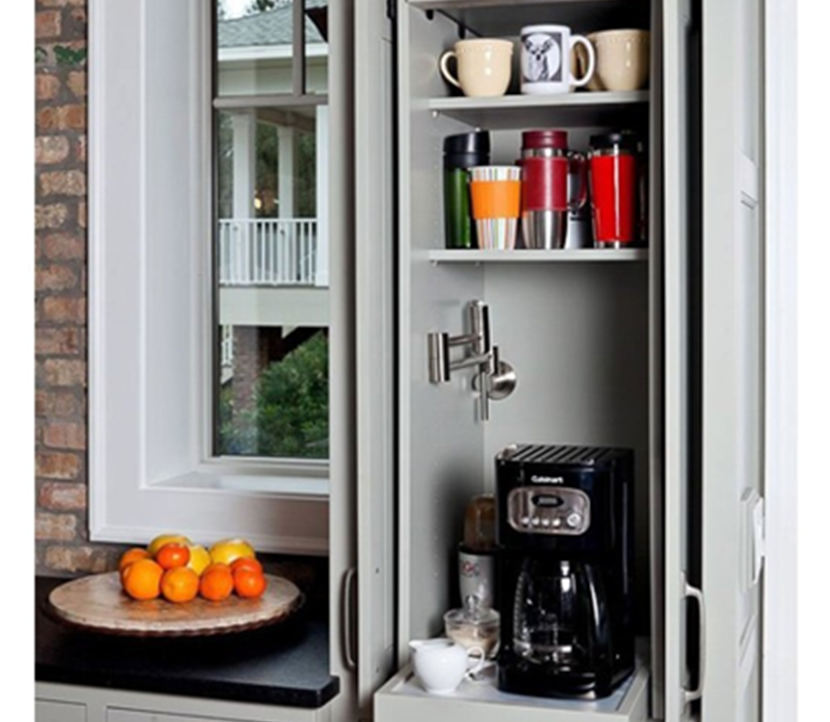 This small cabinet can still deliver if you've run out of space to build a luxury coffee bar. With its pocket doors, slide-out shelf, and water dispenser, you can easily brew your coffee in any kitchen size.
If you have a narrow cabinet, add a pull-out shelf where you put the coffee maker. Its pretty finish adds to the appeal of your kitchen interiors.
11. Repurposed coffee hutch
Instead of building a DIY coffee bar table from scratch, you can turn a hutch into a stylish brewing station. It suits those who live in places or apartments that one can't modify.
Buy a secondhand cabinet at the flea market and paint it with complimentary colors. You can decorate the inner lining with wallpaper that looks like rustic wood or faux wood paneling. Add stylish industrial lighting to crown your creation.
12. Simple counter décor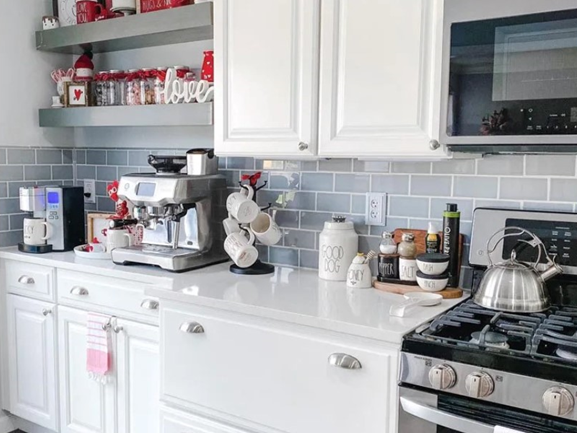 Sometimes, you don't have to come up with outrageous ideas for a functional coffee bar. You can set up a station on the countertop of a wine fridge. Use the space to set up an electric kettle, coffee maker, mugs, and other decorative items.
13. Coffee mug organizer on the wall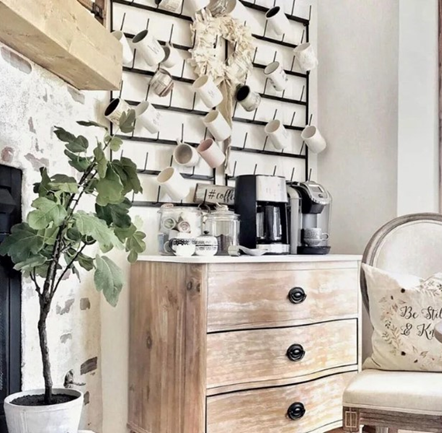 Do you have an extensive collection of coffee mugs filling your cabinet? Mounting this massive mug rack on a free wall is your best bet. Install it as a backdrop with a small coffee bar console table with three drawers below it.
The three-drawer vintage cabinet complements the wall-mounted organizer and gives the coffee station a unique appeal.
14. Rustic coffee bar stand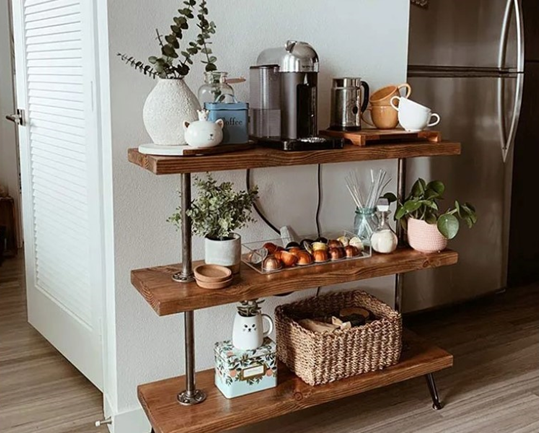 Are you looking for a coffee stand with a mid-century feel? This rustic coffee bar stand with warm wooden shelves brings modern into the old. You can keep your coffee accessories in the rattan storage baskets on the lower shelf and K-cups on the mid-shelf. Keep the coffee maker and potted plants on the top shelve for easy access and use.
15. Hidden pantry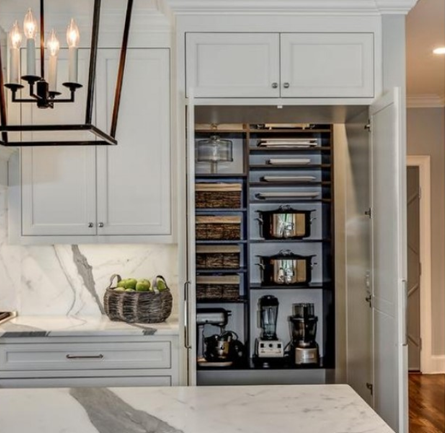 A hidden tall pantry is ideal for anyone with rarely used small appliances. The designer of this coffee bar used a clever technique, installing it in a void in the wall. The pantry cabinet settles in the void for easy closing and provides ample storage.
You can use the drawers above the pantry for keeping coffee mugs, powder, and other small appliances.
16. Focus on the aesthetics
A coffee bar can improve your home décor if done right. This two-cabinet coffee table provides a countertop for keeping the coffee maker, spoon cup, and a rack for canisters.
It also has a closed top shelf where you can store mugs and extra decorative canisters. And since it leans on the wall, you can add more aesthetics and signage.
17. Shelf box on a coffee bar console table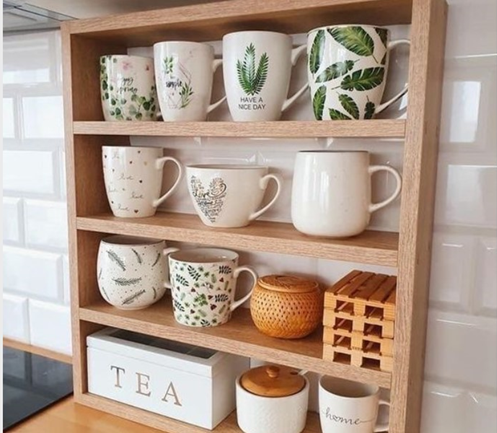 This simple coffee station has a built-in wall shelf on the table. Place a simple coffee bar console table next to the wall and then install the three-tier wooden frame on the wall so that it sits on the table.
You can store colorful coffee cups and essentials on the shelves and coffee makers on the table. The white tiled wall contrasts the wooden shelf, making the bar outstanding.
18. Display your coffee cup collection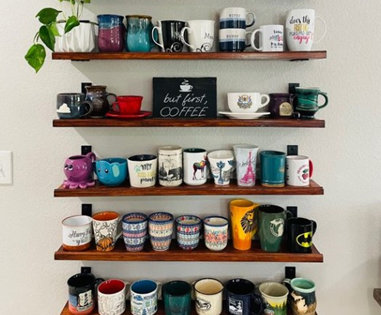 Go big on color and display your cups on a floating shelf on an open wall. This arrangement brightens the kitchen and breathes life into your morning routine.
The colorful handmade cups, mugs, canisters, and flower pots are breathtaking. Place a coffee bar console table below the shelf to keep your coffee machine and mixer.
19. Unique Coffee mug storage wall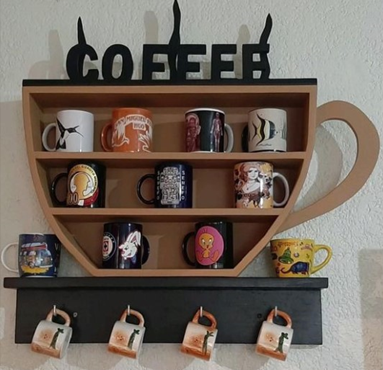 Talk about a creative DIY coffee bar idea! Think about building storage shelves on the wall in a big wooden coffee cup box. The big cup rests on a wooden stand with hooks for extra storage space. You can crown this igneous design with personalized and colorful tea mugs.
20. Special-shaped wooden shelf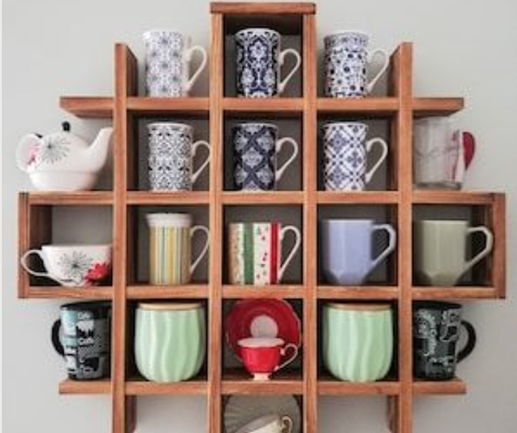 This coffee bar design is similar to the above coffee mug storage. It allows you to build a wooden handmade coffee cup storage shelf above a small coffee bar table in your kitchen or living room wall.
Besides providing ample storage, the design offers aesthetic value. It has 21 spaces to keep tea mugs, coffee cups, decorations, and essentials. Its interlocking cavities make it easy to install despite the complex look.
21. Hang pendant lights
You can create an inviting ambiance in your home coffee bar with a pendant or fairy lights. Colorful lights installed below the floating shelves and walls offer powerful reasons to stick to your morning habits.
22. Invite nature to the coffee station
You can decorate your coffee station with natural plants if you love nature. This design has an open shelf where you can store two plant pots and a coffee mug. Below the shelf, you have an iron rod with hooks for hanging cups.
The small coffee bar table is built on the wall below the shelf and helps store the coffee machine, more potted plants, and coffee beans.
23. Vintage coffee bar stand
Latte cappuccino tastes legit when brewed from one of these. This vintage coffee bar is built with rustic wood and metal, which appeals to many coffee enthusiasts.
It has two shelves and a storage rack to hook your coffee mugs. The top shelf hosts relevant décor, while the second from the top is where you keep your coffee maker, aesthetics, and canisters. Use the remaining shelves to store coffee essentials and decorations.
24. Wooden coffee station organizer
You can buy a wooden coffee station organizer or buy one from Alibaba.com. They are portable, which makes them versatile. And since they have different compartments, you can organize your coffee essentials in one place for easy access.
25. Farmhouse kitchen coffee cart
Are you looking for a coffee bar with a touch of American country style? This farmhouse kitchen coffee cart with cabinets is what you need to bring the cowboy feeling home.
The lower cabinet and the upper drawer provide adequate storage. Each part of the coffee bar has its function: the top shelf hosting the coffee machine and toaster, the cabinet storing cups, and the drawer keeping coffee pods.
The hanging mug racks provide additional storage space for your coffee cup collection and scoops. You can station this coffee table in the living room, kitchen, home office, and dining room.
26. The countertop of a wine rack storage
If you have a cabinet with a barn door wine rack storage, you can turn its countertop into a coffee bar. It is spacious enough to accommodate a coffee maker, a tray for coffee jars, a sugar jar, and a standing coffee tree mug holder.
And since you can station it against a wall, you can decorate its backdrop to suit your home décor. In the morning, you enjoy your coffee; in the evening, you relish a glass of wine!
27. Next to the Staircase coffee bar
Most homes have underutilized awkward wall space next to the staircase that you can use to build a coffee station. It often goes unused because of its size, but it can host a cute coffee bar buffet cabinet.
Alternatively, you can place a small mobile kitchen cart with cabinets here. It occupies less space, contains extra hidden storage to keep coffee essentials, and is highly portable. Keep the coffee machine and a tray for sugar and coffee pods on the countertop.
You can also dress up the wall with additional aesthetics like a wall clock or signs.
28. Coffee station in a bookcase
Do you have built-in shelving units in your home bookcase? You can repurpose it to include a coffee bar. Use the taller bottom shelf to keep the Italian espresso machine and the shorter upper shelves for coffee mugs, beans, and other essentials. The drawers below the library provide you with additional storage space.
29. Kitchen coffee corner
You can carve a coffee station without compromising movement if your kitchen has a large counter space. Install floating shelves at the corner wall to store beans and sweeteners.
Your espresso machine, coffee maker, and mug tree can sit on the countertop of the built-in cabinet below the floating shelves.
30. Living room coffee bar.
Living room corners next to the windows can host a coffee bar. You just need to invest in a small coffee station table with storage.
The cabinets and chest provide storage space, but you can add two floating shelves above the cabinet. This simple, clean setup suits your living room since it has no clutter.
31. Season-themed coffee station
Who said a coffee bar should be set in stone? You can decorate your coffee station and change its style depending on the season.
Whether it is the fall, Christmas, or winter, you can play with different decorations and color themes to give your coffee space a fresh seasonal look.
32. Coffee bar cart
What about a coffee bar cart without accompanying floating shelves? This versatile coffee bar is ideal for small spaces and quickly moves to your desired place.
The countertop offers space for a coffee grinder and a coffee maker. You can keep K-cups, mugs, and other coffee accessories on the lower shelves. This coffee cart keeps all the coffee stuff in one place.
33. Fuse modern with vintage
Blending vintage and modern elements is one way to make your home coffee bar stand out. Think about a mirrored backsplash, antique aesthetics, and fluted cabinet doors. You could display your mugs with hooks under the cabinet for easy storage.
34. Optimize coffee bar for Tea parties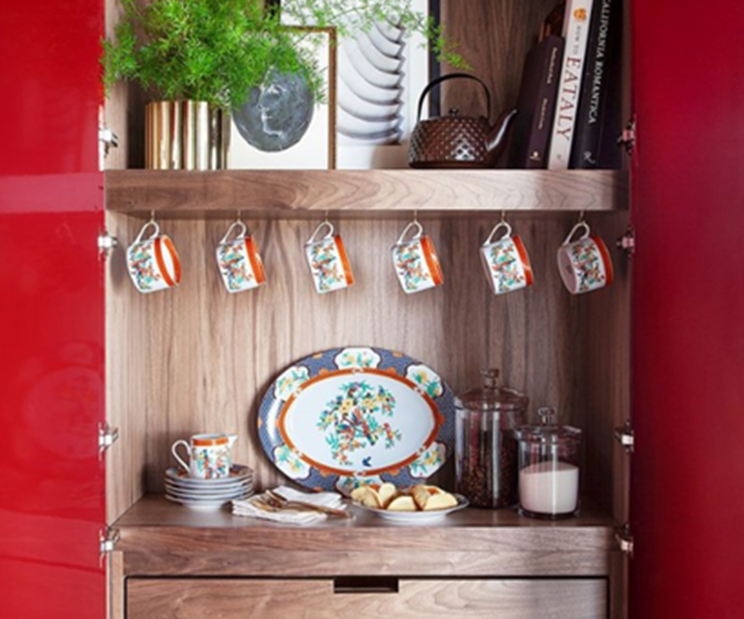 This coffee console table is ideal if you want to incorporate tea in the afternoon to reduce your coffee intake. A cup of tea from this converted closet is what you need to crown your day.
Hang your colored tea mugs on the hooks and keep the tea bags in the cabinet drawers. The glass jar and coffee machine go on the countertop, keeping the arrangement pristine.
35. Home office coffee bar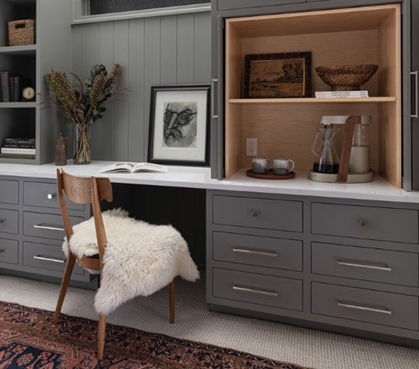 Since Covid-19, most homes have a home office section to accommodate work-from-home arrangements. You can place your coffee bar next to your home office. You don't have to leave your desk during coffee breaks because the console table is at arm's length.
This coffee station has a pegboard and shelves to hang coffee mugs. And the creatively included faux greenery adds to the glamour of the office and creates an ambient work environment.
Creatively Transform Your Morning Routine with a Cup of Joe
Creating a dedicated coffee bar in your home is more than just a trendy addition; it's a lifestyle upgrade. The 35 coffee bar ideas we've discussed offer diverse solutions for anyone who wants to create something unique.
Whether optimizing a small corner or turning an entire cabinet into a coffee haven, the possibilities are endless.
These coffee bar ideas help you consolidate all coffee essentials in one place, thus saving time. You can craft a unique space that reflects your style and personality where you unwind or design your day.